All In One B2B Template Pack
$2,119.00
My complete pack of effective B2B email templates. Full list below.
Description
Do you need to get busy people to respond to you and say 'yes' to your requests?
If so, read on.
I ran a digital marketing agency and about a year in, my word of mouth leads dried up. I was desperate for sales and I dealt with that in the only way us Brits know how… I got blind drunk.
… In that time, I decided to write the most absurd cold email I could.
I was still tipsy enough in the morning to think it was a good idea to send my email to Marketing Directors, CEOs and other senior people at some of the world's largest brands and corporations.
To my amazement, it worked:
I've met with senior decision makers at RedBull, Pepsi, Symantec, Hewlett-Packard, Cisco, HSBC, Barclays and countless other global brands, exciting start-ups and SMEs.
It turns out b2b doesn't have to mean boring-2-boring!
You can get results like these, too. Let me show you how.
BUY NOW
This pack includes effective templates for:
Booking sales calls & meetings with even the busiest, most senior contacts.
Inviting yourself onto podcasts that your audience listens to.
Reconnecting with old clients to try and get repeat business.
Getting the attention of influencers to promote you or your clients' products, or just to make yourself known.
Following up with a prospect who hasn't replied to your proposal, without seeming 'pushy' or desperate.
Sending direct messages on Facebook, LinkedIn, and Instagram that stand out and get responded to.
Following up with prospects you've met at events, seminars, or meet-ups.
Booking as many job interviews as you need.
Contacting journalists for link building, PR, or content marketing purposes.
Inviting prospects to your events, seminars, and meet-ups.
Breaking the ice with potential partners with the aim of developing mutually beneficial relationships, e.g. You may run a digital marketing agency and wish to partner with a design agency so you can refer clients to each other.
Arranging interviews with sought-after experts in your industry.
Booking yourself speaking engagements at key events.
Retaining more clients with a monthly "How are we doing?" email.
Sending that final 'break up' email of your sequence that charms even the busiest, most reluctant prospect into replying.
Dealing with the response "What will it cost?" when you need far more information to be able to put a quote together.
Getting your foot in the door in new niches where you have no experience or case studies to support you.
The Invoice Chasing Email – Use this email for when a client STILL hasn't paid your invoice. There are two versions of this email. One for smaller businesses with no accounts department and one for larger businesses with enormous impenetrable accounts departments.
The Cross-Sell Email – For charming your clients into pursuing other services you offer.
The Upsell Email – Persuading your clients to spend more money with you by buying more time or offering a higher level of service.
The Retainer Email – For convincing clients they'd be better off on retainer, rather than working on a project by project basis.
The "Crazy Idea" Email – For asking your clients to consider a 'crazy' idea you have that would help them achieve their goals.
The "Change of Strategy" Email – For when a campaign hasn't gone as well as you'd expect. You did everything you needed to, but the results aren't as you'd like. Use this email to inform your client and suggest a new direction.
The "I Messed Up" Email – Not every campaign can go well. Sometimes, we are at fault. Use this email to proactively own up and suggest ways to improve the situation.
The Webinar Invite Email – A humorous, 'non-hype' email that convinces the recipient to register for your webinar.
The "Thank You For Being Awesome" Email – Use this email to reward your best employees, freelancers and suppliers for when they've gone above and beyond what's expected.
The Two Touch Combo – A template for an unusual direct mail piece and a follow-up email. This method is extremely effective for getting the attention of busy prospects who are inundated with emails.
The LinkedIn Invite / Follow-Up Message Combo – A template to use for sending entertaining LinkedIn connection requests that follow-up disarming direct message.
BUY NOW
Do my templates work?
Absolutely.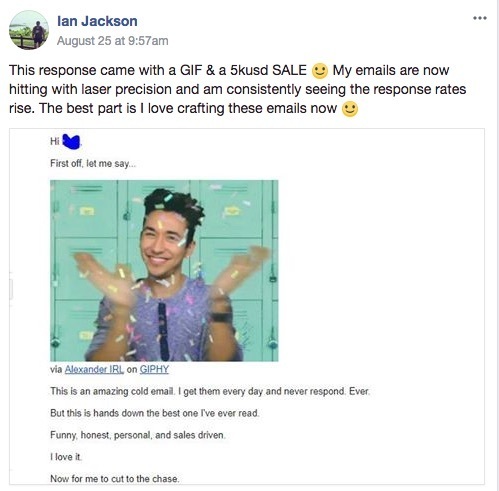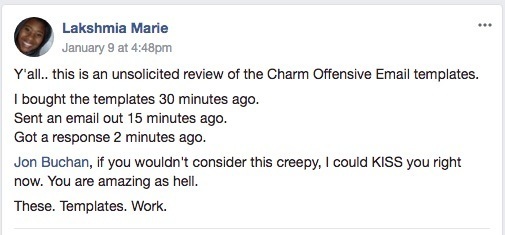 BUY NOW