Guest Post: How To Land Ecommerce Marketing Clients With Funny Emails [Case Study]
This is a guest post from Danavir Sarria.
Every ecommerce marketing agency has a lead generation problem.
I know, because I specialize in email marketing for 7-8 figure ecommerce brands.
As a freelancer, I normally rely on inbound leads by writing articles that demonstrate my skills such as "how to build a $1MM ecommerce email marketing funnel". But I knew if I wanted to grow from a freelancer to an agency, I needed a second consistent flow of high quality leads.
So I turned to Jon Buchan's cold email templates and the results were amazing.
Within the first week, I landed one of my biggest clients ever, Drink02.
And inside of this case study, I'm going to show you how I did it and how you can replicate the exact same system for your ecommerce marketing services.
Let's get started.
Step #1: Create Your Dream 100 List
The thing with cold email is that it's a manual process
Unlike a blog post, no one is going to magically find you. Instead, you have to go out and make a pitch to each individual ecommerce business you want to land as a client. So if you're going to take the time to go one by one, you might as well go after the exact clients you want.
For me, this meant CPG brands within the food & beverage and personal care space.
So I used these two sites to discover new brands I would love to work with:
The Consumer Packaged Goods Directory
ThingTesting

I opened a new tab for every brand that looked interesting to me and I whittled my list down by double checking if they fit my criteria as a DTC brand that could afford me and that I could help.
This meant…
Analyzing their Facebook ads library
Looking at how successful they were on social media
Making sure they had product catalogs I could do well with
Once I had made a list of the top 100 brands I wanted to work with, I signed up for Norbert. This is a site that helps you find people's email addresses as long as you have the right "seed" data.
More specifically, the name of both the brand and the founder.
This meant typing in "[INSERT BRAND] Founder" into Google so I could find the founder's name. Then I would input their name and their brand name into Norbert. In return, Norbert spat out the direct email addresses I was looking for.
Drink02 was one of the leads I found during this process.
Step #2: Send The Funny Email
Once you have your "hit list" of potential clients to contact, the next step is to contact them.
Before sending the actual email though, I knew I needed a good offer. With no case studies, I decided the best thing to do was to offer a free email marketing audit. Not only would it provide value upfront for the client, but it would also help me know if this was a good client to work with.
I picked a Charm Offensive template that would fit with this messaging.
To be honest though, I was skeptical about the process. I wasn't sure it was going to work.
So I just sent a handful of emails to test out the process. If I couldn't get a single reply, I was going to drop the whole thing. But if I did get a response, I would triple down on cold email.
I won't share the actual template I used, but here's the response I got from Drink02:

Score!
I was so excited, I completely forgot about the other 80+ cold emails I was planning on sending and instead I replied as fast as I could so I could get started with their email marketing audit.
Even with all of this excitement though, I didn't consider this sale "closed".
I wanted a paying client, not just a free email marketing audit.
Step #3: Close The Sale
I hustled to get the email marketing audit done over the following 3 days.
Once I did, I sent it over to Drink02's founder in the hopes he would love it enough to hire me on the spot. I knew it was one thing to send a cold email, but another to actually land the client.
Here was the response to my email marketing audit:

It wasn't the ideal scenario…
Typically, you want a client who's ready to get on a call or ask about your rates in general. Whenever you have someone ask specifically for "quick and dirty" pricing, it means they're probably going to flake out before you close them.
But it was better than nothing, so I gave him my "quick and dirty" project pricing.
Here was his response: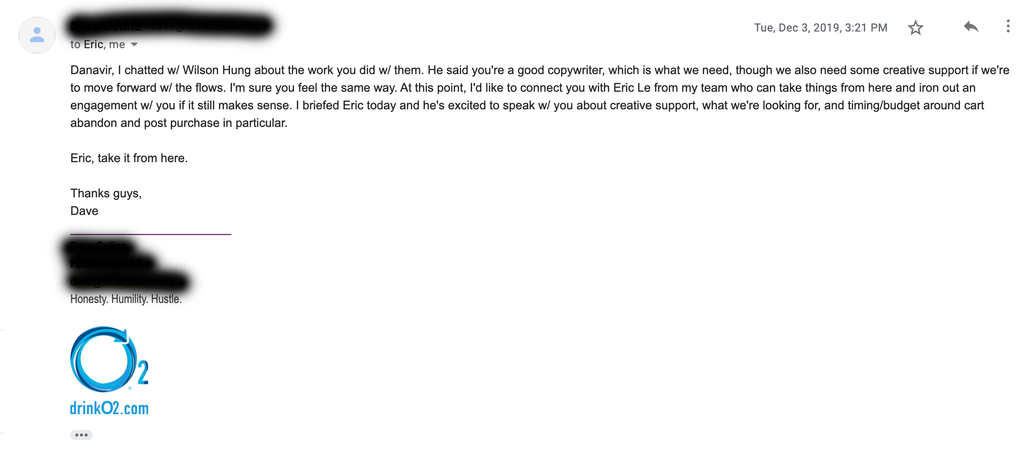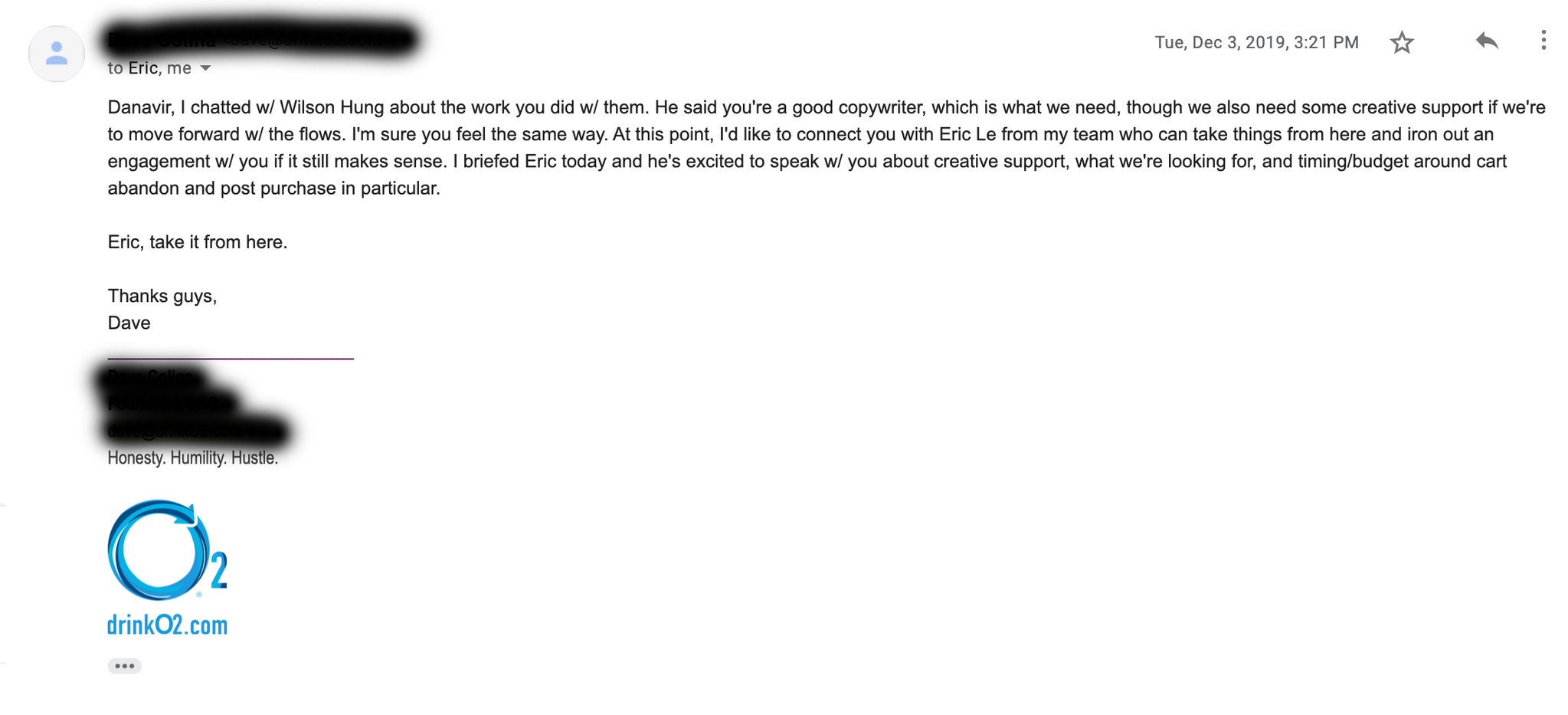 Turns out, he himself cold emailed a past client of mine to confirm my skills.
So after a few more exchanges with the Drink02 team to confirm my project rates, what exactly I would be doing, and if I would be able to get everything done before Christmas, I got this response:


And there we have it folks…
I landed Drink02 as a paying client and I did it completely through cold email.
No, it wasn't a $1,000,000 account. However, it was all I needed to get the ball rolling. Till this day, I promote Drink02 as a star client of mine and use the work I made for them to land additional clients all the time.
Conclusion
This wasn't my first time trying to land clients with cold emails.
In the past, it was difficult to get any response, let alone a good one. But with Jon Buchan's cold email templates, it made the entire process a lot easier and effective.
It was literally copy & paste with just minor edits to the original template.
It worked and I recommend anyone trying to land clients to use Jon's templates.
– Danavir Sarria
——
A note from Jon: You can currently get my Charming Lead Generation Template pack for a stonking discount: https://www.charm-offensive.co.uk/charming-lead-gen
Offer expires soon.