Have Your Way With Words
£1,495.00
Learn how to write more entertaining copy. You too can have your way with words.
Description
WARNING: This page is deceptively honest, containing a complete lack of the usual elements any competent marketer would include to cajole you into TAKING ACTION NOW.
I've been involved in the world of digital business for 18 years. In that time, people have often told me I'm not doing the things "the right way", and for exactly the same amount of time, I've been taking no notice.
Everyone is creating content these days…
There's so much noise.
Substance is important, but it's style that separates you from the pack…
People will listen to your ideas if you can write copy that your audience enjoys reading.
In this era of social media, being able to get and maintain people's attention is an incredibly valuable skill; a skill that enables you to give others a nice feeling even if they are thousands of miles away.
A skill that makes people remember you.
A skill that makes those same people tell their family, friends and mortal enemies about whatever it is you're working on.
That's powerful. And achievable.
Have Your Way With Words is the rebellious maverick of copywriting courses…
There are plenty of wonderful direct response or general copywriting courses out there.
This course is different and by "different", I don't mean "I'm desperate for a USP and 'different' is the best thing I can come up with". The content is discernibly different.
You won't find a program like this anywhere else. I'll show you how to combine elements and insights from a wide range of disciplines including comedy, fiction, and speechwriting to stand out in the world of business.
Learn how to:
Write disarming and entertaining copy.
Use a wide range of joke formulas to misdirect readers, leading to smirks, smiles, and laughs.
Use rhetorical devices and other stylistic devices to add punch to every line you write.
Write blog posts, emails, social media content, social media adverts, satirical content and more…
Add your own personality and build your own distinct style of writing.
A whole range of exercises to help you become a more competent and confident writer.
Plus a pack of templates for writing articles, satire, cold pitches, social media ads, broadcast emails, and social media content that entertains, educates, and sells.
WARNING: Do not buy this product if:
You're someone who says things like "Word of advice: You should be more professional" without a hint of parody.
You think smiling, laughing, or making feeling people feel good are vastly overrated. (See point 1.)
You're foaming at the mouth with rage because I conflated point 2 with point 1.
You loathe truth in marketing and advertising.
You believe blandness is a quality deserving of reverence.
You probably should buy this product if:
You're not an utter cockwomble like those I've described above.
You hate the fact that when you get in front of a keyboard, you become the most boring, humourless, bland person imaginable and want to change this.
You'd like to add moxie, oomph, cheek, spunk, swagger, sass or chutzpah to your copy.
You want to have a MASSIVE unfair advantage over your competition by being able to write copy that stands out.
You want the world of business communications to be more human, honest and enjoyable for all.
What's Included?
12 full-length videos, 7 template packs, and 5 slide decks covering the following training sessions:

Joke Formulas that Produce Funny
My Absurd Sales Letter Explained
The Principles of Humourous Copy
Articles That Amuse
Strategic Satire
Cold Pitches That Don't Absolutely Suck
Palatable Social Media Ads
Broadcast Emails That Don't Make You Hate Yourself
Social Media Content That Sells Without Sleaze
Does this stuff work?
I have a ton of testimonials relating to my other courses. This is a new program, so I hope to include your testimonial here soon.
However, here are a few I feel relevant. Only one is completely fabricated. I'll leave you to figure out which one this is.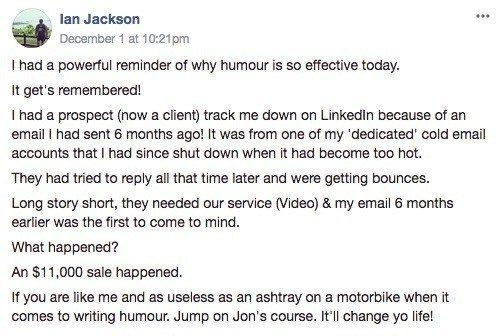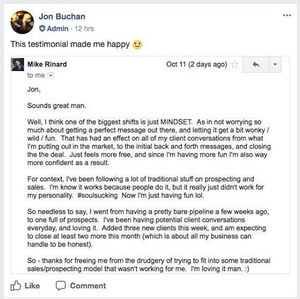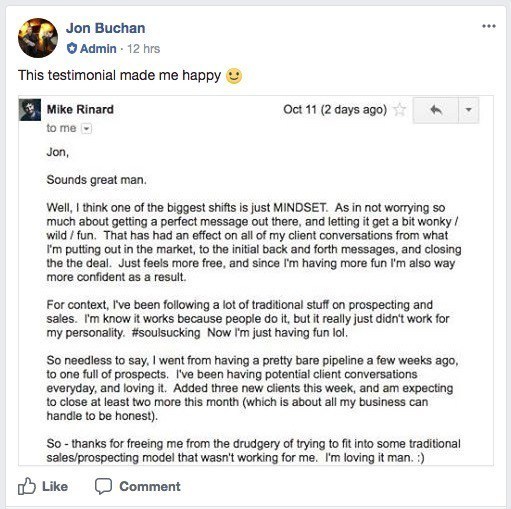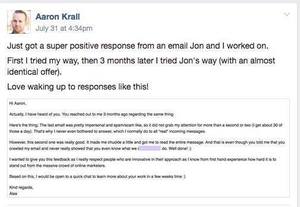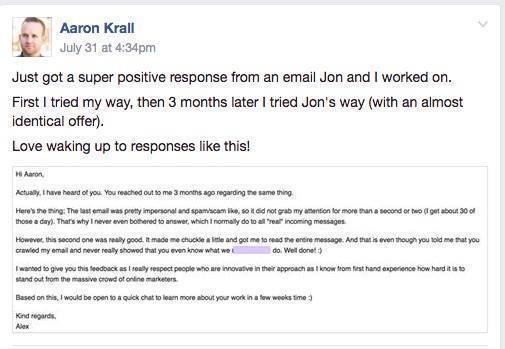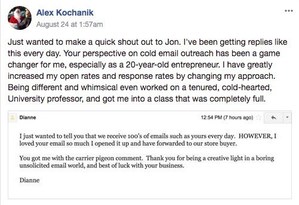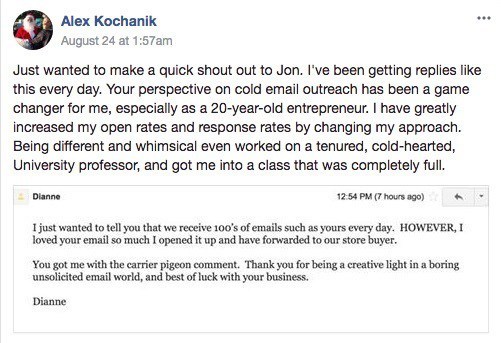 BUY NOW
Finally, my secret weapon.
If this smug sales letter hasn't convinced you should purchase Have Your Way With Words by now, the following video should do the trick.BE WARNED: It contains a plethora of subtle mind control tricks that would persuade even the most ardent cynic to open their wallets.
BUY NOW