The Drunk Cold Email That Changed My Life
A good few years ago, I was desperate for sales after my word of mouth work dried up.I got hellishly drunk one night and wrote a completely absurd cold email.
I was still tipsy the next morning and decided it was still a good idea to send it to pretty senior Marketing Directors at big brands.
To my astonishment, it worked. I got the most amazing complimentary responses and requests for calls/meetings.
My favourite one succinctly said, "My colleague forwarded me your spam email and we would like to meet you to discuss opportunities."
I have hundreds of these screenshots showing responses to my irreverent cold emails saved. It always felt great to receive them.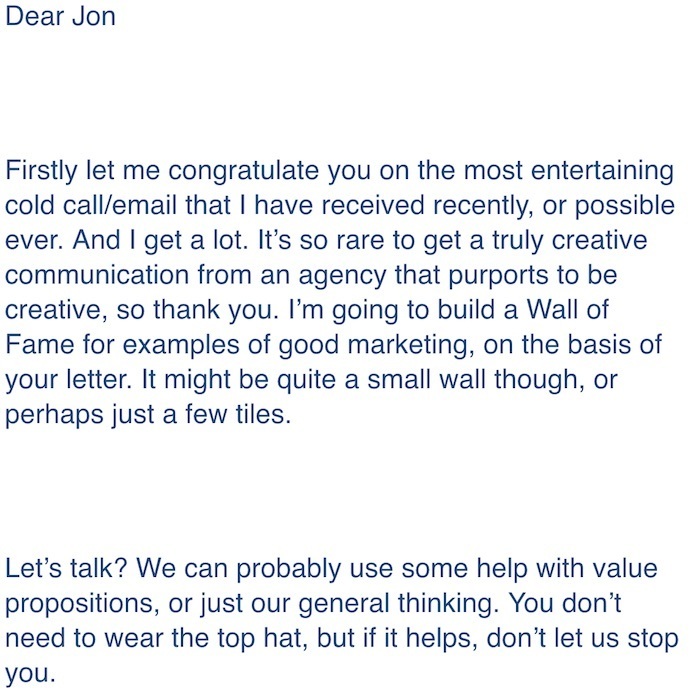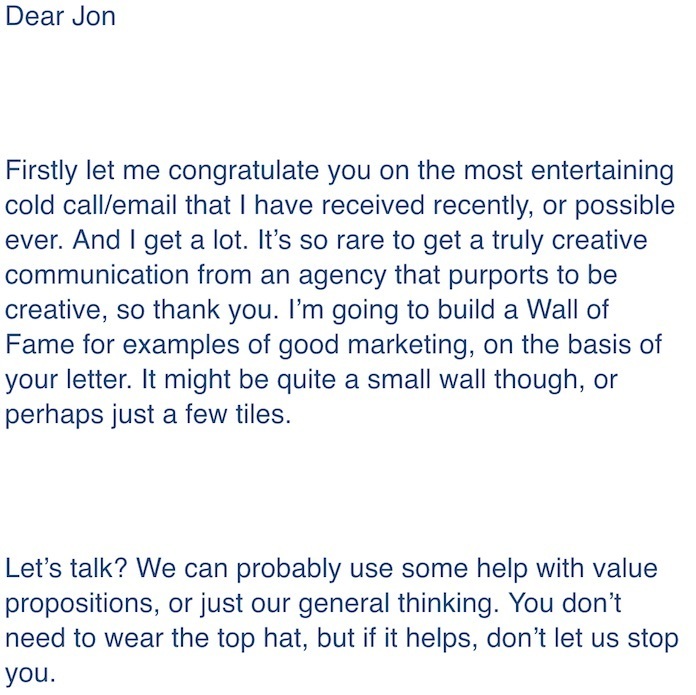 I've met with senior decision makers at RedBull, Pepsi, Symantec, Hewlett-Packard, HSBC, Barclays and countless other global brands, exciting start-ups and regular ol' SMEs.
I've used this same style to get senior editors at large publications to respond to me and publish my clients' content. I've used it to help people get as many job interviews as they want – and to meet people I really look up to. I figured out a way to get the attention of busy people by accident.
I'd never read a single book about copywriting at the time – and that's a big reason my unorthodox approach worked. I didn't know what I was supposed to do. I interrupted the pattern by virtue of not knowing what the "best practice guidelines" were.
I would always hear that you shouldn't try humour in business. It's too risky. I'm glad I took a chance. As it turns out, funny cold emails, LinkedIn messages, and direct mail letters are an exceptionally effective lead generation tool – when done right.
The Birth of Charm Offensive
In March 2017, I started a Facebook group and started telling the world about my unorthodox approach to writing cold emails. Much to my amazement, it took off. People listened to me. They implemented my unorthodox copywriting advice – and they got amazing results.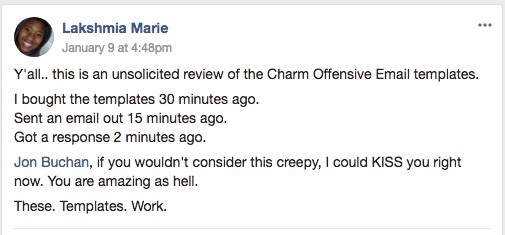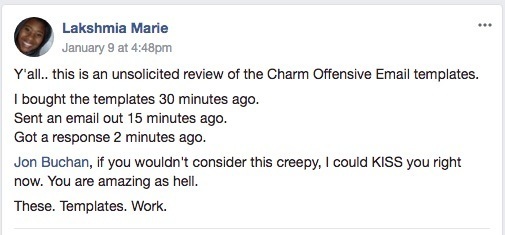 I got addicted to this little feedback loop and redoubled my efforts. I started appearing on podcasts to speak about my weird little tribe. People started writing stories about me. The group kept growing.
My email list kept growing. I started producing courses, template packs, and other paid content. Before I knew it, it was my full-time job.
I teach people how to get the attention of their ideal clients, how to generate PR coverage, how to build a following online (like I've done in the last few years), how to write entertaining copy, and whatever else I think will help my audience prosper.
If you'd like to be sent a copy of my magic email cheat sheet, type your email address below and click the magenta button with all the enthusiasm you can muster.