Charming SaaS Email Template Pack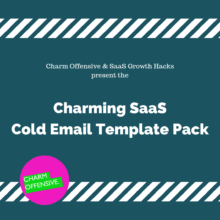 ​It's finally here. A pack of charming email copy templates for SaaS business owners & marketers.
I met Aaron Krall, admin of the SaaS Growth Hacks Facebook Group not long after I started my own Facebook Group, Charm Offensive.
He complimented me on my group and gave me some advice regarding making my Facebook Group a success, which I followed.
In return, I gave him some of my cold email templates.
It wasn't long before he sent me this message:



Good times 🙂
Me and Aaron have news...
It's taken us a while, but we've finally decided to launch a pack of Charming Email Copy Templates for SaaS businesses.

​Charming SaaS Email Templates
This includes templates for:
Getting the attention of joint venture partners with a view to selling your complimentary product.


Start a conversation with existing users to book interviews to get feedback ​& success stories.


Email users to ask why they didn't upgrade.


Get the attention of journalists and other influencers and get them to write stories about your platform.


Inform customers that their credit card has been declined, and get new payment details.


Ask users why they cancelled their account.


A "your trial is ending please upgrade" email.


Welcome new customers to your platform and make them smirk, smile, or laugh.


Value: £297 / $389


​PLUS: A Special Charming Cold Email Template Pack

We are also including a selection of my most effective charming email templates.
This includes:
Booking sales calls & meetings with even the busiest, most senior contacts.


A Charming 5-part follow up ​sequence to send after your initial charming cold email pitch.


Inviting yourself onto podcasts that your audience listens to.


​A cart abandonment email to recoup more sales.


Booking yourself speaking engagements at key events.


Retaining more ​customers with a monthly "How are we doing?" email.


The Webinar Invite Email – A humorous, 'non-hype' email that convinces the recipient to register for your webinar.


The LinkedIn Invite / Follow-Up Message Combo – A template to use for sending entertaining LinkedIn connection requests that follow-up disarming direct message.


Value: £297 / $389


​Does this stuff work?


PLUS: Awesome FREE Bonuses!
​

Bonus 1: My 'Magic Cold Email Training' video which runs through one of my most successful cold email templates line by line. VALUE: £199.


Bonus 2: My swipe file of awesome, daring, disruptive website copy, emails, guerrilla marketing, direct mail campaigns, PR campaigns, and content marketing. VALUE: £14.


Bonus 3: Promote Yourself Playbook mini training session. This training video runs through 10 quick and easy tactics to generate leads immediately. VALUE: £99.


Bonus 4: Win With Words. This ebook analyses one of most successful cold email templates, which led to meetings with brands like Symantec, Pepsico, Hewlett Packard, RedBull and many more. Value: £199.


Bonus 5: The original email I sent to Symantec to win their business, plus a template version for you to play with if you so wish. Value: Priceless ;)​


​Total Value of all the bonuses: £611 / $799!
​This SPECIAL LAUNCH OFFER:
2 packs of useful templates PLUS two video trainings, my most successful ebook, a handy swipe file, and an extra special template that won me millions of dollars worth of business.

Total value of all the things: £1204 / $1569.

Price today - FOR A LIMITED TIME ONLY - £99 / $139!!!!


Frequently Asked Questions
Will this work for B2C and B2B?
Yes! These templates will work for you as long as you have users that pay you monthly.

Do I need to edit the templates for them to work?
Yes, they'll work best if you fill in the pain that you solve and outcome that you can deliver. Each email will have a spot where you can fill in your details.

Is there a guarantee?
You're covered by our No Risk Guarantee. All we ask is that you try at least 3 of the templates. If they aren't everything we've promised and more, just send us an email showing evidence you've used the templates and we'll refund every penny, no questions asked.

No Risk Guarantee
Try these templates for 30 days. If you make an honest effort to send out these emails and don't see results, let us know and we'll refund every cent.
All you have to do is email us proof you've used the templates and we'll click the refund button, no questions asked. All we ask is that you give them an honest try.